Recently I have been listening to the "
Recommendations
" of
my Last.FM account
. It's their compiled list of bands that are similar to the majority of your library, but not artists that you've listened to alot. I use this station to find new bands in the same genres of the artists I already love. That's how I originally discovered power metal, three years ago, and how there were more doom bands than
Type O Negative
. Now, I use it to expand my knowledge of power, thrash, folk, and stoner bands (the stoner is the most recent, expect a
Current Trend
to appear).
Every now and then an artist pops up that I had heard of before, but I haven't seen much of their stuff over the years. Just the occasional song, or cover song, nothing to sink your teeth into, just a teaser. That's how it was with
Elf
.
First let me star off by saying, Elf is a fantastic band! While they only released 3 albums in their short tenure, every disc is chock-full of great songs, and catchy rhythms.
History
The act was founded by singer and bassist
Ronnie James Dio
(of future solo and
Black Sabbath
fame), keyboardist Doug Thaler, drummer Gary Driscoll, and guitarists Nick Pantas and David Feingstein, both of who were Dio's cousins. Originally called The Electric Elves, then shortened to The Elves, then just to Elf in the beginning of the 70's.
Elf's self-titled debut album was produced by the members of
Deep Purple
, who saw the group auditioning in 1972, and for the next few years, Elf had a steady gig opening for Deep Purple's world tour. It was during this time that Elf released their next two albums, Carolina Country Ball in 1974, and Trying To Burn The Sun in 1975. Also in 1975, guitarist
Ritchie Blackmore
left Deep Purple with the intent to release solo works. He liked Dio's soulful voice, and thought he would be perfect for his latest project,
Ritchie Blackmore's Rainbow
. Following their band leader, the rest of Elf helped record Blackmore's then-solo project, taking time from touring and recording their own music. After the album was recorded, Blackmore decided to scrap his solo effort, and instead created
Rainbow
into a full-fledged band, replacing all of the Elf members except for Dio. Without a singer, and without the support of Deep Purple, the members of Elf parted ways, and the band was no more.
Discography
Elf
(1972)
The band's first album, and truly their only true album. After this release the band began being influenced by Deep Purple, and because of this, their other releases sounded more like a bluesy-Deep Purple and less like the boogie-rock Elf that was founded.
This is the album that I heard when I was younger, so when I began my trek through the track list, I recognized a few of the songs off the bat. "Hoochie Koochie Lady" is my favorite off the album with "First Avenue" a close second. It's work like this that make me wish that the group had released more albums, at least one more before being discovered by Deep Purple.
"Hoochie Koochie Lady" – 5:32
"First Avenue" – 4:23
"Never More" – 3:50
"I'm Coming Back For You" – 3:27
"Sit Down Honey (Everything Will Be Alright)" – 3:48
"Dixie Lee Junction" – 5:09
"Love Me Like A Woman" – 3:47
"Gambler, Gambler" – 4:26
Carolina Country Ball
(1974) - Released as L.A./59
in the US and Japan
This is the album where the sound starts changing, not that it's a bad thing, it's just different. Elf's sound started becoming more complex and layered (the Deep Purple influence), and was more rock-oriented then their debut album, for better or worse.
The best song is the title track, I really liked the groove of the entire song, I was pleasantly surprised at the sudden change of styles from the previous album - at least for this song. After the first track, the other songs I enjoyed were the more original-sounding material, "Ain't It All Amusing" and "Rocking Chair Rock 'n' Roll Blues," both classics.
"Carolina County Ball" - 4:46
"L.A. 59" - 4:21
"Ain't It All Amusing" - 5:01
"Happy" - 5:28
"Annie New Orleans" - 3:01
"Rocking Chair Rock 'n' Roll Blues" - 5:36
"Rainbow" - 4:00
"Do the Same Thing" - 3:10
"Blanche" - 2:31
Trying To Burn The Sun
(1975)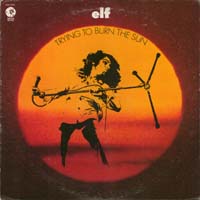 Elf's final release, this album made the full jump to rock with blues undertones, very little straight blues in the entire album. Again, this doesn't make it a bad album, just not the sound of the original Elf. Make your own decision whether it's good or bad.
This album had a lot more songs that I enjoyed overall, the only two I didn't really like were the somber, slower melodies of "When She Smiles" and "Wonderworld." They were just too slow and teary-eyed for me. Again, the first track was the best ("Black Swampy Water"), followed by "Shotgun Boogie."
"Black Swampy Water" - 3:43
"Prentice Wood" - 4:37
"When She Smiles" - 4:54
"Good Time Music" - 4:30
"Liberty Road" - 3:22
"Shotgun Boogie" - 3:07
"Wonderworld" - 5:03
"Streetwalker" - 7:07
So there you have it, the history and works of one of the best unknown bands of all time. While they didn't have the impact of Deep Purple, or even their follow-up act, Rainbow, Elf was still an amazing band. One I plan on listening to until I am 60, by that point the music will be over 70 years old. It'll the the "oldies of the oldies" and I'll embarrass my grandkids every day. Good times...